A belt is more than just a stylish accessory; its primary purpose is to ensure your pants fit comfortably. However, if the belt is too big, it's pretty much useless. If you have a belt with a prong buckle, what are you to do? That's where a little DIY magic comes in handy: Just add another belt hole, no sweat. No sweat? Learn how to create belt holes at home in just 3 simple steps with this guide!
Here's what you'll need:
Ruler, set square, or measuring tape
Marker pen (e.g., a waterproof felt-tip marker)
Leather hole punch; alternatively, a drill or a sharp object like an awl or screwdriver
1. Measure and mark the location of the new hole
First, use a ruler to measure the distance between existing holes. Mark the same distance with a pen for the new hole. This is where you'll add the new hole.
For a custom size, feel free to place the hole wherever you like, but remember this may affect the belt's symmetry. There's a reason shops typically don't sell belts with irregularly-placed holes! Only you can decide if the added functionality outweighs the impaired aesthetics.
2. Secure the belt to prevent slipping
Keep the belt steady by securing it between two heavy objects. Tools such as clamps will also work.
3. Punch the belt hole using an appropriate tool
Using a leather hole punch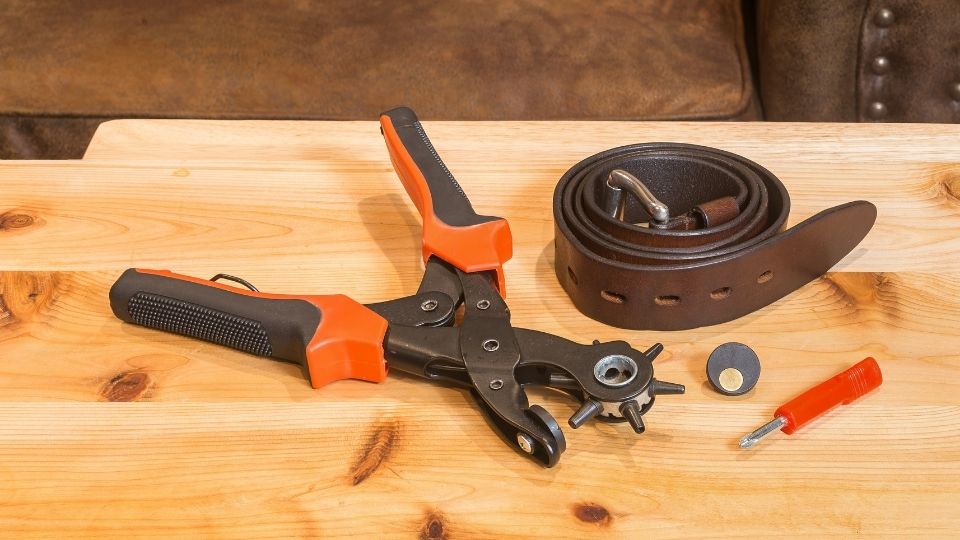 Position the marked spot between the two halves of the leather hole punch, and press firmly. Depending on the belt material, you may need to apply some force for the punch to penetrate the material.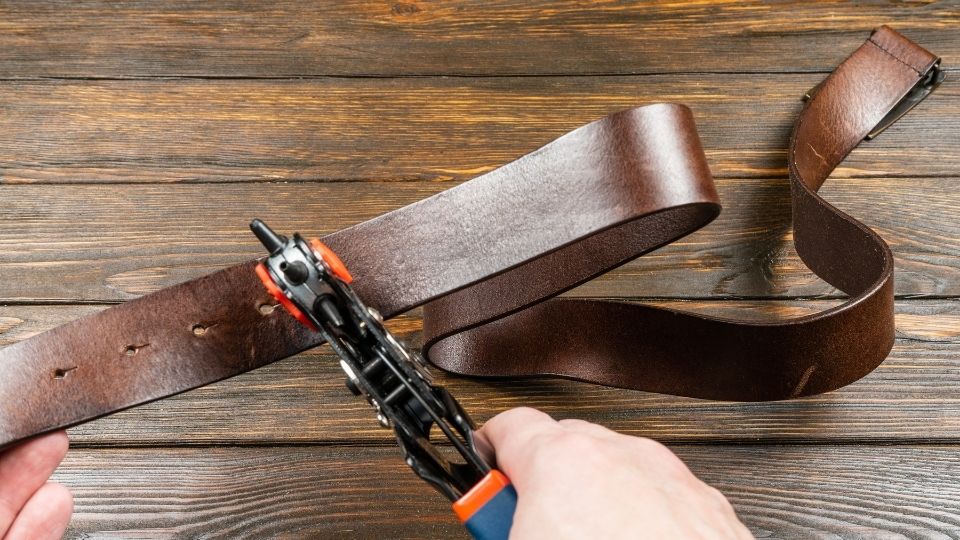 If you don't have a leather hole punch at home, there are other methods you can use to create a belt hole. Although the holes might not be perfectly smooth, they'll at least allow the buckle's prong to latch and provide a better fit for your pants. So, let's explore some alternative methods.
Using a drill
If you have a drill, you can use it to create a new belt hole. Don't forget to place a wooden board underneath to protect the surface you're drilling on. Drill the hole in short bursts. With a little patience, you'll get the job done.
Using a sharp object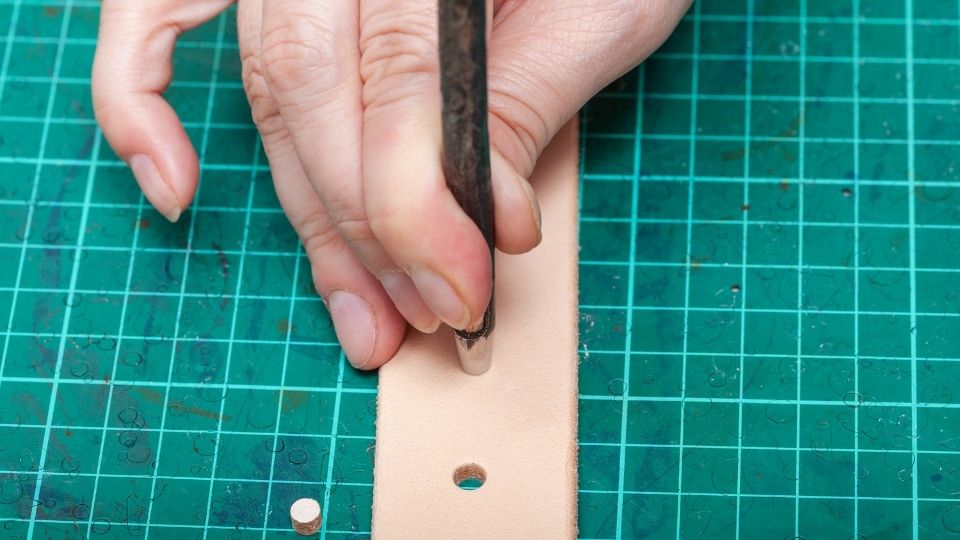 In a pinch, a sharp object can be used to manually create a hole at the marked spot. An awl is the tool best suited for the job. Press the awl into the belt and then tap it with a hammer. You can also use circular motions to enlarge the hole until it matches the size of the other belt holes.
The alternative: Never make belt holes again with a hole-free belt!
To ensure you have a fashionable belt that will always fit perfectly without the need for additional holes, consider investing in a hole-free belt. It's a game-changer for those who like a hassle-free wardrobe.
Besides many other advantages, this option is also a great gift since you don't need to know the recipient's belt size. A hole-free belt can be adjusted to any size you might fancy, as it doesn't have pre-punched holes like a traditional prong buckle belt; instead, it locks in place just where it should. It fits perfectly, no matter what.
JET BELT® – The high-quality no-hole belt with a unique buckle
For a very special kind of hole-less belt, look no further than the JET BELT®. Not a mere luxury belt, it is a must-have for any airplane enthusiast, not to mention practical – due to its unique buckle. The buckle resembles an airplane seatbelt buckle, making it a true standout for aviation enthusiasts. It opens and closes quickly and effortlessly within milliseconds – just as you're used to from your last cabin experience.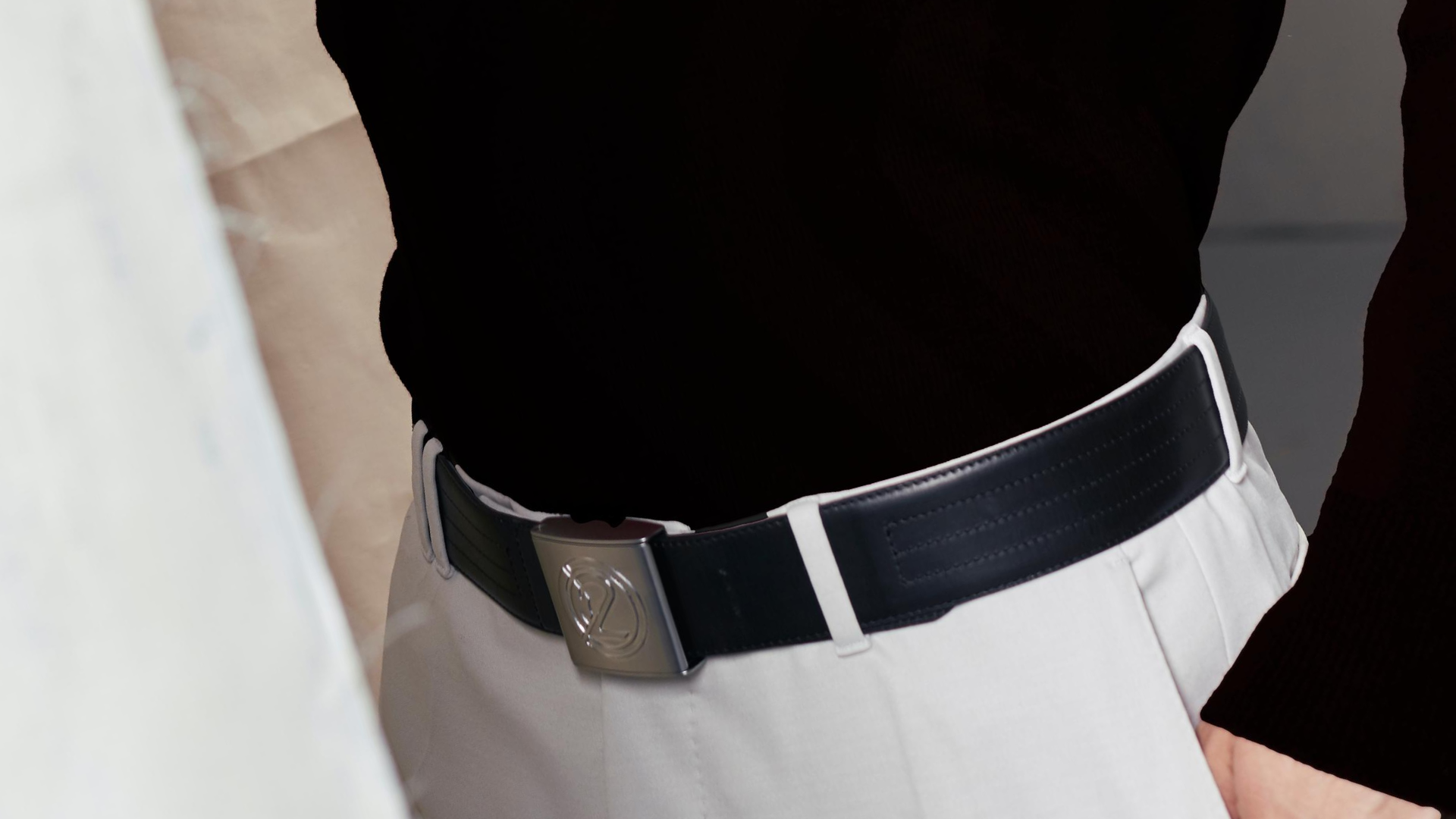 Like all adjustable belts, the JET BELT® is easily adjusted to any length and always fits perfectly.
The belt is available in four different styles, using only the highest quality materials such as European cowhide leather, durable nylon, and chrome metal parts.
Check out the JET BELT® Shop – The hole-less belt with Safety-Belt Technology →
Conclusion: Making belt holes is a piece of cake, especially with some common tools!
In a previous article, we showed you how you can trim a belt. As you've seen, it's just as easy to create a belt hole yourself, using common tools and without much effort. This DIY approach can save you both time and money.
However, if you'd prefer an even simpler solution, opt for a fully adjustable hole-free belt. You can be sure it'll always fit, no need for any holes!