Vacation season is the best time of year! Would only that arriving at your long-awaited vacation destination not require the journey there. Doubly so if it involves a long and perhaps exhausting flight. Even flying aficionados have at times found themselves counting down the minutes to touchdown.
But those flying aficionados also know a truth: Preparation is half the battle. The right travel gadgets can make all the difference and allow for en-route de-stressing. There are many different handy travel gadgets, and we could not possibly list all of them. Some, however, have stood out to us as must-haves for flying. Here's our top 5:
E-book readers and tablets for high-quality entertainment to go
On a long trip, avoiding boredom is top priority. We all know that that is easier said than done. There is, after all, only so much entertainment to be had from sampling the in-flight meal and distractedly watching movies in which one has, at most, moderate interest.
Enter stage left modern technology in the form of the e-book reader and tablet. You're probably familiar with the general principle: download books, games, movies and the like in advance and peruse them to your heart's content on board.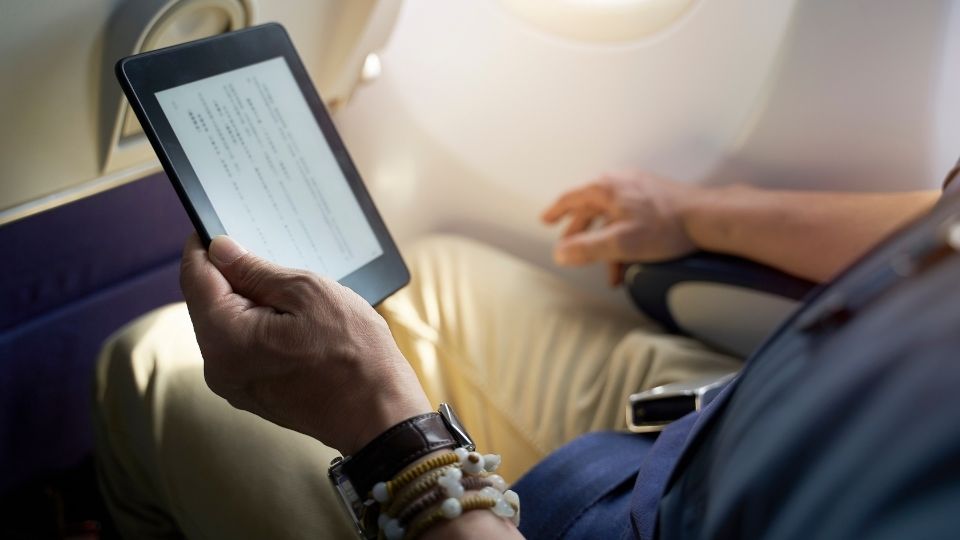 An e-book reader specifically replaces stuffing a few books in your carry-on bag, or buying the latest mediocre Dan Brown novel in the airport bookstore. Instead, an e-book reader has space to hold your whole library and then some.
Specialized to be the closest thing to a physical book and provide an altogether pleasant reading experience, it typically has special features such as a matte display. Thus, you will not run out of things to do –
The power bank – the range extender for all your devices
– provided your battery doesn't die on you. If you're lucky, your plane may feature USB ports for charging, but we wouldn't bet on it. Furthermore, the current may be so low that charging takes forever or doesn't work at all.
How convenient that you decided to pack a power bank. Now you can charge your phone, e-book reader, laptop, and other devices and so will not be without them during your flight.
Please note that your powerbank may not exceed 100 Wh or 27,000 mAh for you to be allowed to carry it in your carry-on. To ensure smooth passage through security, we recommend removing your power bank from your carry-on at the security checkpoint and placing it in a screening bin as you would your phone or laptop.
The airplane belt known as the JET BELT® – practical and stylish accessory for frequent fliers and airplane aficionados
Security may in fact be the most tense part of a flight. The next gadget on our list works to alleviate that: The JET BELT® does not have to be removed when passing through security! The belt buckle inspired by airplane seatbelt buckles can be completely removed in a single click. Just keep the belt strap on, place the buckle in the security bin or show it to security staff as required, and be on your merry way. And don't worry: The JET BELT® is plenty stylish, too.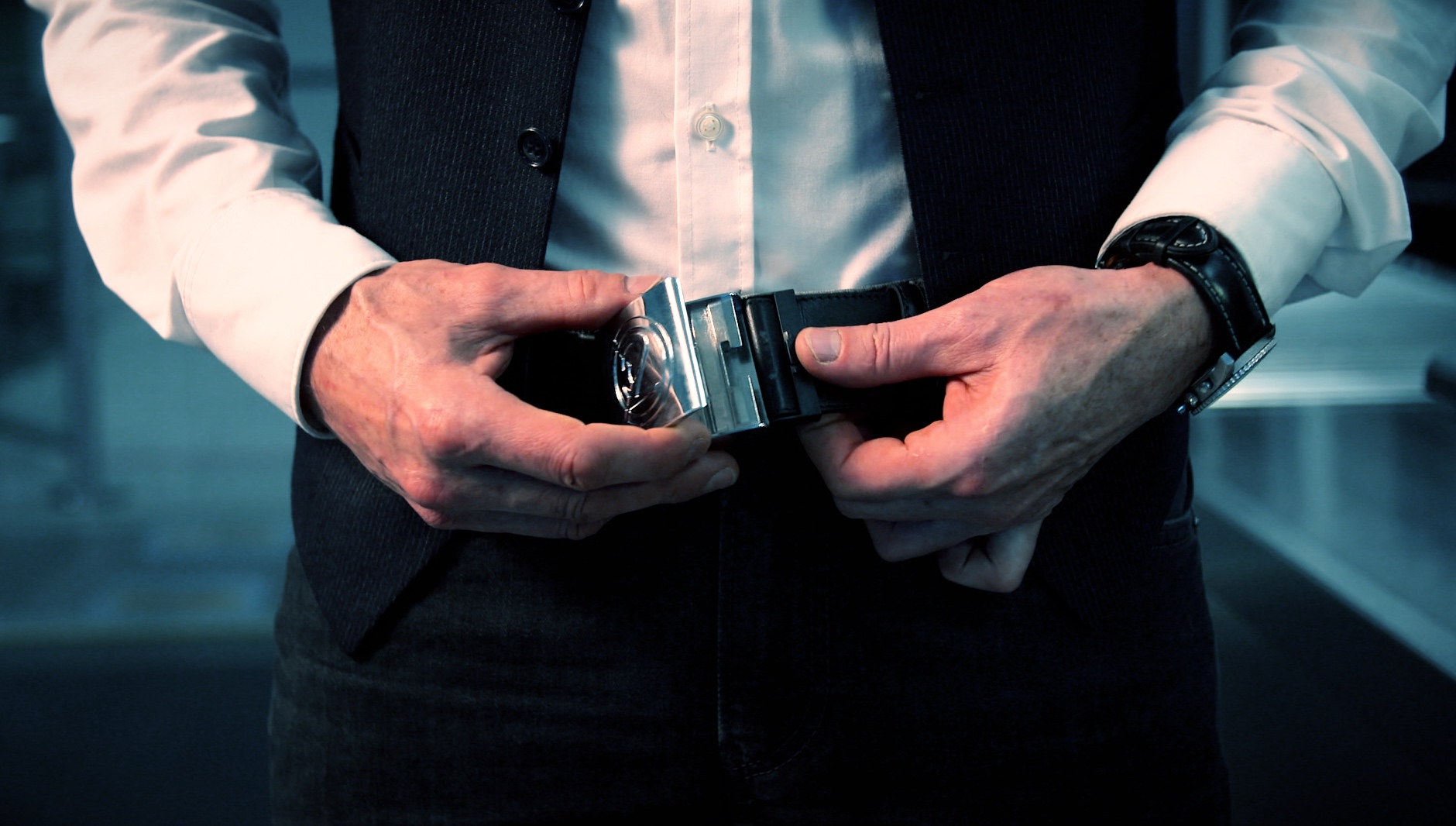 Especially on multi-transfer flights or if you're a frequent flyer, you'll quickly come to rely on it.
The JET BELT® is available in four different models:
There's the variant for those who want the most complete, immersive airplane experience: If so, choose the variant with nylon strap and chrome buckle in either a glossy or matte chrome finish.
Or choose the full-grain leather variant and get high quality real leather as well as the same chrome buckle in glossy or matte.
Note: If you're unsure on what to keep in mind when buying a leather belt, check here!
You'll be sure to attract admiring glances on any trip!
The perfect sleeping companions – an inflatable neck pillow and sleeping mask provide relaxation on board
To jump right into exploring at your vacation destination, you'll want to make sure you're getting a good night's sleep, even on a long flight. To make sure you do, here are a few gadgets that can help you do just that:
The trusty travel pillow – we recommend the U-shaped inflatable variant. It's easy to store in your carry-on luggage and inflate when needed. Especially if you don't have a window seat, a pillow to rest your head on will prevent futile attempts to find a comfortable sitting position where none exists, or longing glances at the shoulder of the stranger next to you.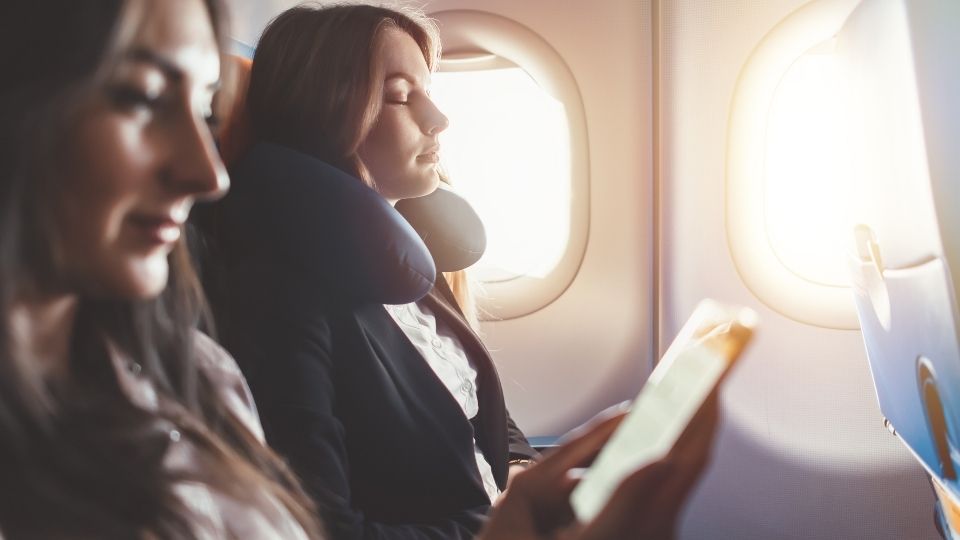 Augment this with a sleep mask – covering your eyes, the sleep mask lets them rest from all the light and movement, and provides some measure of privacy from curious glances of others.

Easily store both gadgets in your carry-on luggage – perhaps in the space formerly occupied by all your books.
A luggage scale – for enthusiastic travel shoppers, a light and convenient gadget that air travelers will not want to be without
Fittingly, the last travel gadget on the list will be one you will be happy you packed once you're on your way back home: a luggage scale. Picture the scene: You find a wonderful souvenir here and buy a beach accessory there, unfettered by trivial concerns such as the weight limit per item of luggage. In economy, the policies of most airlines typically permit no more than 23 kilograms per checked bag. Good on you if you had the foresight to pack light. For those of us who haven't, what are we to do?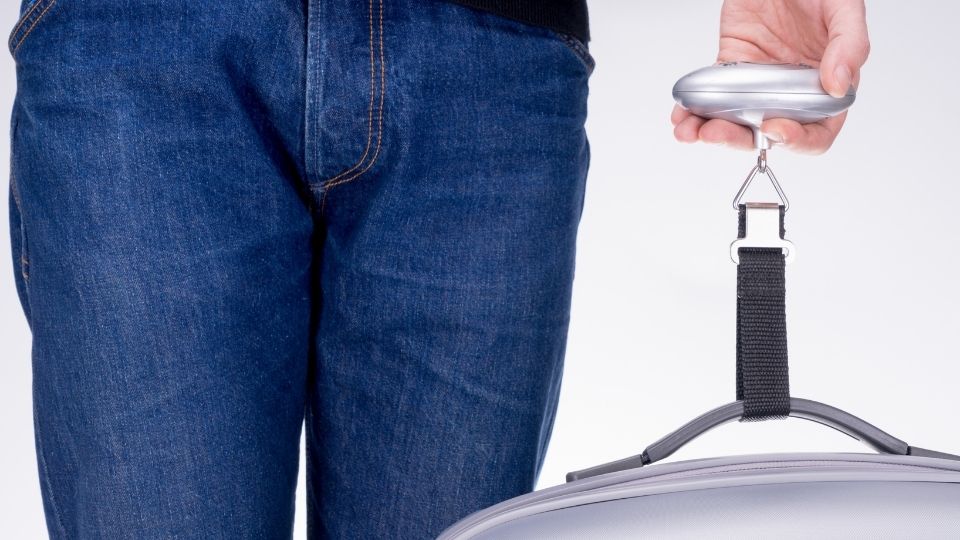 If we're lucky, our hotel may have a scale. If not, we can only hope that we haven't exceeded our airline's limit. Failing that, we may be subject to excess baggage fees. A mere one kilogram beyond the weight limit results in a charge of between 70 and 150 euros – enough to outweigh the savings of most travel deals.
Using a luggage scale heads this problem off before it can even develop. Their small size and convenient shape allow them to fit into any suitcase. Hang your suitcase on the small hook, lift it up and read off its weight.
Starting at below 10 euros and in light of the expensive aforementioned excess baggage fees, a luggage scale should be a no-brainer.
Travel gadgets from airplane belt to luggage scale – our conclusion
Good preparation is crucial! The right tools and the right clothes, including stylish accessories, will make your trip fly by.
So treat yourself to one of these neat travel gadgets and arrive at your vacation destination stress-free and relaxed!
Click here to visit the JET BELT® Shop – The belt featuring Safety-Belt Technology →